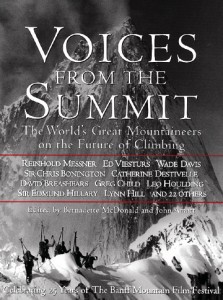 Voices from the Summit
Edited by Bernadette McDonald and John Amatt
This was my first book project and was published in conjunction with National Geographic Books and The Banff Centre for Mountain Culture. It coincided with the Banff Mountain Film Festival's 25th anniversary celebration, which we called the Banff Mountain Summit.  
The book is an extraordinary tribute to the art of mountaineering with many of the world's greatest climbers, a book both unique in scope and unprecedented in authority. Looking back at the climbers' milestones and looking forward to new challenges, these founding fathers, contemporary superstars, and their chroniclers, explore every aspect of the sport. They offer thoughtful, personal, and often provocative visions of what mountaineering truly means to the men and women who test their spirits and risk their lives in the rewarding world of high adventure.
Contributors include Reinhold Messner, Ed Viesturs, Wade Davis, Sir Chris Bonington, Catherine Destivelle, David Breashears, Greg Child, Leo Houlding, Sir Edmund Hillary, Lynn Hill, Yvon Chouinard, Jeff Lowe, Todd Skinner, Kitty Calhoun, Will Gadd, Thomas Hornbein, Royal Robbins and 15 others weighing in on 11 topics crucial to the future of mountaineering, from Himalayan climbing and the ethics of adventuring to ice climbing and rock climbing, plus a history of the Banff Mountain Film Festival. What makes this volume unique is that the material presented is all original. As well, elegant black and white portraits of each contributor have been created by photographer, Craig Richards.
The book became an instant collector's item, with mountain book collectors combing the globe for signatures. For those not so inclined to do all the work, National Geographic also published a limited edition, leather-bound, numbered edition, signed by each and every contributor.
Published by: National Geographic Books, 2000. ISBN 0792279581
Buy on Amazon | Buy on Chessler Books