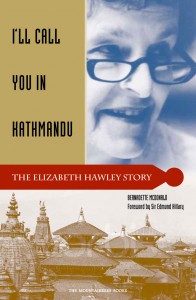 I'll Call You in Kathmandu: the Elizabeth Hawley Story.
Bernadette McDonald
She left America in the 1950s to travel the world—and although she's never climbed a mountain, she became one of the most important figures in Himalayan climbing history.
In the post-World War II era when few women lived life on their own terms, a young Elizabeth Hawley left her job as a researcher for Fortune magazine in New York and set out to travel the globe. Nepal—exotic, remote, on the cusp of entry into the modern world—captured her imagination. In 1960 she returned to Kathmandu, single and alone, and over the next four decades built a life that even she could not have envisioned.
Initially reporting on politics and culture for Reuters and Time Inc., she quickly became part of the Kathmandu scene, an eclectic cast of mountaineers, adventurers, politicians, and entrepreneurs, ranging from Sir Edmund Hillary to Nepalese royalty, from Colonel Jimmy Roberts to Reinhold Messner, from Boris Lissanevitch to Babu Chiri. But the golden age of Himalayan climbing had dawned and soon Hawley found her place in it: a historian revered as the final word on mountaineering achievements on the roof of the world. Hawley is still in Kathmandu today, carrying on her work well into her eighties.
How did this woman, who has never climbed a mountain or visited Everest base camp, become the top authority the climbing world depends on to document, authenticate, and evaluate the significance of expeditions in the Nepal Himalaya? How did she command the respect of elite mountaineers (some of whom report fear of her sharp tongue and relentless probing)? What are her personal views on the storied feats, notorious scandals, and great tragedies of Himalayan climbing history? What does she really think of climbing legends Hillary, Messner, Chris Bonington, Tomaz Humar, Ed Viesturs, and more?
What of her rumored romances with famous climbers? What of the tumultuous political and social change she has witnessed in Nepal over more than forty years?
Bernadette McDonald journeyed to Nepal to find out. In addition to extensive interviews with Hawley, celebrated mountaineers, and Kathmandu intimates, McDonald had full access to Hawley's meticulous records and correspondence. I'll Call You in Kathmandu reveals the intensely private Ms. Hawley as a complex individual with a rich personal life. It is fitting tribute to the woman who figures so prominently in the history of mountaineering.
With a foreword by Sir Edmund Hillary
Published by: The Mountaineers Books, 2005. ISBN 0898868009.
"I'll Call You in Kathmandu is much more than an admirable biography of an intriguing woman. While throwing open the curtains on the enigmatic life of Elizabeth Hawley, Bernadette McDonald provides a crash course in the history of Himalayan mountaineering, crammed with engaging renderings of the numerous characters whose lives intersected with Hawley's over the past 45 years in Kathmandu—a quirky cast ranging from Sir Edmund Hillary to Hillary Clinton, Boris Lissanevitch to Babu Chiri, Reinhold Messner to Jimmy Carter."
— Jon Krakauer
"No one has a wider knowledge of Himalayan mountaineering [than Elizabeth Hawley]. She is respected and admired by all the famous climbers . . . I am particularly pleased that her unique and eventful life has finally been documented, as she has lived through interesting times, in fascinating places, with some remarkable people. May she long remain her very special, formidable self."
Sir Edmund Hillary
"There is just one person who knows all about the history of Himalayan climbing, from the first ascent of Mount Everest by Hillary and Tenzing to our days: Elizabeth Hawley. Meeting with all the famous climbers, she has built a mountain of information. Finally, we have a glimpse of those fascinating stories, and of the enigmatic Hawley herself."
— Reinhold Messner
"I could not put this book down . . . Well written . . . Amazing stories . . . I certainly learned a great deal about Miss Hawley . . . This book must be read by all Himalayan climbers as it shows what an incredible lady she is."
— Tashi Tenzing
"Congratulations to Bernadette McDonald for her meticulously researched biography of an indomitable woman. Elizabeth Hawley's life and work defined the scope of Himalayan climbing during the last four decades. The engaging writing and deft details in I'll Call You in Kathmandu vividly bring to life Elizabeth, her extraordinary life in the magical kingdom of Nepal, and the world's best mountaineers."
— Arlene Blum, author of Annapurna: A Woman's Place and Breaking Trail: A Climbing Life